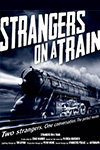 Strangers On A Train
Gielgud Theatre
Price from £ 74
Strangers on a Train in London. Two strangers. One conversation. The perfect murder. Book your tickets for Strangers on a Train in London here!

A seemingly innocent conversation soon turns into a nightmarish and dangerous reality for Guy Haines when he meets Charles Bruno on a train journey. Ahead lies a lethal nightmare of blackmail and psychological torment that threatens to cost Guy his career, his marriage and his sanity. His choice: to kill, or to be framed for a murder he didn't commit.

Get on board for the West End's most gripping new thriller, as the classic Strangers on a Train opens at the Gielgud Theatre on 2nd November.

Strangers on a Train is of course based on Alfred Hitchcock's legendary movie, so book your tickets now for a magnificent journey of suspense you won't want to miss.