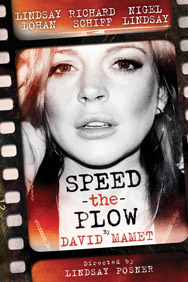 Speed-the-Plow
Playhouse Theatre
Price from £ 33
Multi award-winning movie star Lindsay Lohan takes her first ever stage role as Karen in David Mamet's brilliantly satirical portrayal of Hollywood, a part which was originally played in New York in 1988 by Madonna.

When a hugely bankable star agrees to appear in a foolproof commercial hit, film producers Bobby Gould and Charlie Fox are convinced this is the break of a lifetime.

That is until temporary secretary Karen derails the dream. When she persuades Bobby to dump the blockbuster in favour of a story which can only be described as box-office poison, Charlie is forced to resort to desperate measures.