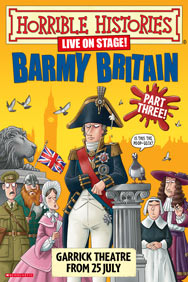 Horrible Histories - Barmy Britain Part 3
Garrick Theatre
Price from £ 15
Following the major sell-out success of Horrible Histories – Barmy Britain Parts 1 & 2, Birmingham Stage Company will return to the Garrick Theatre with a brand new installment, Horrible Histories – Barmy Britain - Part 3, making it the longest running show for children in West End history.

Will King John be a martyr for the Magna Carta? Party with the Puritans and light up your life with the Great Fire of London! Clap along with crazy King Charles! Will you see eye to eye with Admiral Nelson? Does the Duke of Wellington get the boot? Vomit with the vile Victorians and make a great escape from the First World War.

It's history with the nasty bits left in!
Horrible Histories - Barmy Britain Part 3 Reviews
"The Rik Mayall-esque Spargo and Foster are a brilliant comic act: think Fry and Laurie, mixed with Little Britain and a dash of Monty Python. It's sparky, cheeky and covered in poo!"
The Guardian
---
"Anarchic, cheeky, illuminating fun - a little fact-packed gem. The actors are a hoot, funny and sharp, delivering the one-liners with excellent timing. Here's a show that has brains (with the winning mix of fart-jokes) aplenty"
Time Out - No.1 Critics Choice
---
"The children sing along to the zippy songs with glee, especially the fabulous Puritan Rag. They'll be enthralled by this all-singing, all-dancing historical sketch show. Horrible, it is"
The Times
---
"A hilarious journey through Britain's barmy history. Superb!"
WhatsonStage.com
---
"Barmy Britain returns to the West End with another fact-filled hit that makes our nation's past look preposterous!"
Official London Theatre
---
"Clever, funny and educational - highly recommended for children and adults of all ages!"
West End Wilma
---
"This is educational entertainment for kids at its best!"
The Londonist
---
"A slick two-hander that's immaculately stage-managed from a versatile pair with a terrific fund of voices and accents. Hilarious!"
The Stage
---