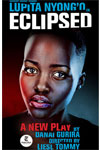 Eclipsed
Golden Theatre
Price from £ 96
On the heels of her Academy Award®-winning, breakout performance in 12 Years a Slave, Lupita Nyong'o stunned critics and audiences in the Public Theater's sold-out hit Eclipsed - the "scorching and powerful" (The Guardian) new play by Zimbabwean-American playwright and actress Danai Gurira (star of AMC's The Walking Dead and co-author of In the Continuum).
Highlights:
- Ensure your tickets
- Get the best available seats in your chosen category
- Enjoy the Academy Award-winning actress Lupita Nyong'o

A must-see in New York!
Now, the global star makes her Broadway debut in this "must-see" (NBC New York) production written, directed and performed entirely by female artists.
Eclipsed is the story of five extraordinary women brought together by upheaval in their homeland of Liberia. They forge a close-knit community… one that inspires them to feats of increasingly greater strength. Directed by South African-born Liesl Tommy (The Good Negro, Appropriate), Eclipsed is a stirring tale of hope, humor and resilience - and the only new play by a woman on Broadway this season.
How do I get my tickets?
Shortly after your booking is complete, you will receive an e-ticket by email. Just print out your ticket and bring it with you to the theater.