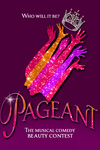 Pageant: The Musical
Davenport Theatre
Like every beauty pageant you've seen before, Pageant features contestants desperately vying for a glittering tiara. With swimsuit, talent, and evening gown competitions – the show includes both the thrill of victory and the agony of defeat!

Unlike some beauty pageants you've seen before, the female contestants are all played by men. And the audience gets to select the winner each night.

It will be an evening filled with excitement and glitter, but first and foremost, beauty…let the beauty begin!