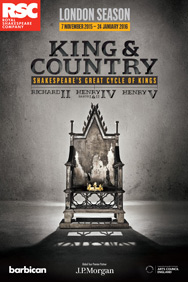 King and Country: Cycle D
Barbican
Price from £ 180
For more information and to book, please call us using the telephone number above. The Royal Shakespeare Company's residency at the Barbican culminates in January 2016 with a major theatrical event to mark the 400th anniversary of Shakespeare's death. King and Country will see Richard II, Henry IV Parts I & II and Henry V performed in repertoire as a complete four-play season cycle. This is the only opportunity to enjoy the RSC's tetralogy of History plays as a cycle in the UK prior to its international tour. There are four complete cycles of performances of King and Country, bookable only as a four-play season package. The season runs from 12–24 Jan 16, with Cycle D running from 22–24 Jan. Richard II: Fri 22 Jan 7.15pm
Henry IV PI: Sat 23 Jan 1.30pm
Henry IV PII: Sat 23 Jan 7.15pm
Henry V: Sun 24 Jan 2pm Tickets are only available as part of a package. You will only need to purchase one ticket per person which will be valid for the same seat for all 4 performances.