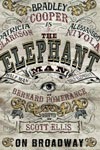 The Elephant Man
Booth Theatre
Price from £ 179
Finally the epic tale The Elephant Man will play on Broadway in New York with Bradley Cooper in the leading role. Book your tickets for The Elephant Man here!

Two-time Academy Award nominee Bradley Cooper (American Hustle, Silver Linings Playbook) returns to Broadway in Bernard Pomerance's Tony Award-winning classic The Elephant Man.

The Elephant Man is based on the real life of Joseph Merrick, and tells the story of a 19th-century British man (Cooper) whose severe disfigurement made him a star of the traveling freak show circuit. When the renowned Dr. Treves (Alessandro Nivola) takes Merrick under his care at the London Hospital, he discovers that beneath this shocking exterior lies a brilliant mind and an unshakable faith.

Soon all of Victorian high society becomes fascinated by Merrick, especially a beautiful actress who is played by Academy Award nominee Patricia Clarkson. But with Merrick's new life comes new complexity… and a "normal" existence begins to seem all but impossible.

Directed by Tony nominee Scott Ellis (The Mystery of Edwin Drood), this captivating new production also stars Academy Award nominee Patricia Clarkson (Pieces of April, Shutter Island) and Alessandro Nivola (American Hustle, The Winslow Boy).