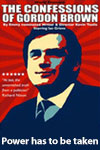 The Confessions of Gordon Brown
Ambassadors Theatre
Price from £ 26
The Confessions of Gordon Brown is a brand new one man play by Kevin Toolis in London. Book tickets for The Confessions of Gordon Brown in London here!

Gordon Brown hilariously exposes the darkest secrets of being Prime Minister, the stab-in-the-back plottings, the betrayals and most importantly - the hair gel.

Love him or loathe him, Gordon Brown was our greatest failure at being Prime Minister in 200 years. In a candid portrait of life inside Downing Street Gordon at last reveals what it takes to knife your way to the top and rule a nation. And how his dream of power all went wrong.