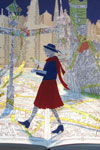 The A-Z Of Mrs P
Southwark Playhouse
Price from £ 22
The A-Z of Mrs P in London, will help anyone looking to find their own way. You can book tickets for The A-Z of Mrs P in London here!

For anyone who has ever searched to find their way, here is a re-telling of the myth and even more remarkable reality behind the handy, all purpose, pocket sized A-Z Street Guide of 23,000 streets with house numbers.

Both award winners in their own right, singer/composer Gwyneth Herbert (The Sea Cabinet) and playwright/author Diane Samuels (Kindertransport) have joined forces to make their own journey exploring the trail left by Phyllis' footsteps to relate in words, music and song the moving story of how she embraced a city and faced her mentor and nemesis to find her own feet.