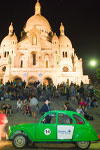 Paris by 2CV
Price from £ 81
Discover Paris's famous sights, such as the Eiffel Tower and the Louvre, in France's most iconic car - the 2CV by Citroën. This is a unique and fun way to see and learn about this fantastic city!


Highlights:
‐ Discover Paris's iconic sights in France's most iconic car
- Choose between 3 different tours
‐ Drive down some of the most famous avenues in the world
‐ All the 2CVs
are convertible so that you can enjoy the sunshine
‐ Learn about all the sights and monuments
- Add a bottle of champagne to your tour
Experience Paris by a 2CV
On the 45 minute tour your chauffeur will drive you past the Arc de Triomphe, the Eiffel Tower, the Invalides, the Grand Palais and Petit Palais, La Madeleine, Place Vendôme, the Musée du Louvre and the Orsay Museum. This is the perfect highlights tour if
you are pressed for time.
In addition to the sights of the 45 minute tour, the 1
½-hour
tour will take you past Notre-Dame de Paris, the Ile de la Cité, the Trocadéro, the Champs de Mars, the Opéra Garnier, Place de la Concorde and France's President's residence the Palais de l'Elysée. You will have seen all of Paris's most iconic monuments and sights!
With a 3-hour tour Paris will have no more secrets for you! You'll have the time to discover the amazing architecture and history of Paris in more depth. You'll see even more sites such as the Moulin Rouge, the Sacré Coeur and Place de la Bastille.
Your knowledgeable and friendly chauffeur will give you a detailed commentary about all the sights and monuments you discover on your tour.
If you like, you can also reserve a 75 cl bottle of Pommery Champagne to spice up the tour and perhaps make it a little more romantic!
The tours are avaiable in English, French, German, Spanish & Italian.
How do I get my tickets?
Shortly after your booking is complete your e-ticket will be send directly to your email, just print it out and bring it on your tour.

Where does the tour begin?
The 45 minute tour starts in front of the entrance to the Jardin des Tuileries at Place de la Concorde.
The 1½-hour & 3-hour tour starts in front of the steps to the Opera Garnier on the Place de l'Opera.
Where does the tour end?
The tour ends back at the meeting point.

How many people fit into a 2CV?
Each 2CV can have up to 3 passengers.

Are there children's tickets?
No, unfortunately there aren't children's tickets available for these tours. Children under 5 years old are not permitted on the 2CV tours.

Important information:.
- We cannot be held responsible for traffic-jam, delays, strikes or bad weather.
- The 2CV's have not enough space for wheelchairs.