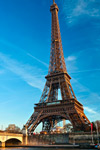 Heart of Paris with audioguide
Price from £ 41
Discover the heart of Paris - Ile de la Cité! Take your map and audio guide and explore the little island in the middle of Paris at your own pace.
Highlights:
- Explore Ile de la Cité at your own pace
- Let your audio guide escort you around
- Follow a map with a suggested itinerary
- Learn about the history of Paris

Discover the Heart of Paris
Your tour starts with a welcome by our hostess who'll be walking with you to the Ile de la Cité.

With your map and audio guide ready at hand, you're all set to start exploring the heart of the city. Wander along the narrow alleys of the Île de la Cité and admire the beautiful part of Paris, while your audio guide will tell you about the area's rich history.

On Ile de la Cité you'll find iconic Parisian places such as the Notre-Dame Cathedral, the Supreme Court building Palais de Justice and the quaint residential park Place Dauphine, among other things.
How do I get my tickets?
Shortly after your booking is complete your e-ticket will be sent directly to your email, just print it out and bring it on your tour.
Where does the tour begin?
The tour starts at the PARISCityVISION office, where you must pick-up your audio guide. The address will be clearly stated on your e-ticket. Please be there 30 minutes before the tour starts.
Where does the tour end?
The tour ends back at the PARISCityVISION office, where you must return your audio guide.

How long does the tour last?
The tour lasts approx. 2.5 hours.
What languages is the tour available in?
The tour is available in English, French, Spanish and German.
Are there children's tickets?
Yes, children's tickets are available for children between age 3-11. Children between under 3 are free when accompanied by a paying adult.
Important information:
- You must pay a 32 € deposit for the audio guide which will be repaid at our agency at the end of the tour.
- This tour is a self-guided tour, where you walk on your own with an audio guide.