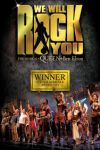 We Will Rock You
Dominion Theatre
Price from £ 51
Don't miss your chance to experience We Will Rock You in the Dominion Theatre in London. After having played a record-breaking 12 years at the Dominion Theatre, the phenomenal musical We Will Rock You is closing on May 31, 2014.

The musical has already rocked more than 6.5 million people and by the time it closes down in May, it will have been performed an astonishing 4600 times at the Dominion Theatre. Catch this smash-hit show before it's too late!

We Will Rock You is set in the future, on a place once called Earth. Globalisation is complete. Everyone watches the same movies, wears the same clothes, and thinks the same thoughts. A safe, happy Ga Ga world.

The Company Computers generate the music and the kids download it. All musical instruments are banned. But resistance is growing. A hero is needed. Is the one who calls himself Galileo that man, and can he help them Break Free?

Legendary band Queen, fronted by the dynamic Freddie Mercury before his death in 1991, have been making music together since the 70's and have now joined forces with writer Ben Elton to bring their unique sound to theatreland. This mega-musical, seen by over 5 million people, includes 32 of Queen's classic hits, including Killer Queen, Bohemian Rhapsody, Radio Ga Ga, and more.

One dream. One vision. One smash hit. Book your tickets today!

Please note: strobe lighting is used in the performance. Seats labeled RV are restricted view by a handrail. Customers must be 5'4 in order to see over the handrail clearly.
We Will Rock You Reviews
"There was wild applause at the climax of the show. and it only got louder"
The Daily Telegraph
---
We Will Rock You Pressrelease
WE WILL ROCK YOU TO CLOSE AT LONDON'S DOMINION THEATRE AFTER A VICTORIOUS 12 YEAR REIGN Storming into its tenth year as one of the West End's most successful shows, Queen & Ben Elton's We ...
Read more