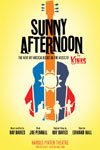 Sunny Afternoon
Harold Pinter Theatre
Price from £ 32
Sunny Afternoon is the story of The Kinks' rise from life on a dead-end street to living the pop star dream of fame, fortune and glory. Get a glimpse inside one of Britain's greatest bands, on a journey through the euphoric highs and agonising lows of pop success.

Highlights:
- Ensure your tickets to this fantastic musical
- Choose your own seats
- Enjoy the music based on the Kinks
- Experience the award-winning musical, including Best New Musical

What is Sunny Afternoon about?
July 30, 1966. As Bobby Moore lifts the world cup trophy, hundred thousand fans in Wembley are singing 'Sunny Afternoon' in unison; the Kinks' number one hit that rocked the nation that summer. How did that happen? And how did The Kinks end up not only invading America, but also being banned from playing there at the height of their career?

These questions and many more are answered as the story of battling brothers Ray and Dave Davies, Pete Quaife and Mick Avory takes the stage in this acclaimed and exhilarating production, featuring the band's classic songs.

Sunny Afternoon draws you into the whirlpool of the legendary North London quartet's famously volatile relationships and highly questionable career moves. The story is set in a Britain caught mid-swing between the conservative fifties and riotous sixties.

The show traces the euphoric highs and agonising lows of one of the country's most iconic bands, and pulsates with the irresistible music that influenced a generation and still resonates today.

How do I get my tickets?
Shortly after your booking is complete, you will receive an e-ticket by email. Just print out your ticket and bring it with you to the theater.

Who is the musical suitable for?
Sunny Afternoon is recommended from age 10 and up.

How long is the play?
Sunny Afternoon lasts approx. 2 hours and 30 minutes, including intermission.

Sunny Afternoon Reviews
"A Blazing Triumph. I Swear You'll Get Goosebumps"
The Times
---
"It's a guitar-riffing, amp-smashing drum-whacker of a night."
Daily Mail
---
"A Dazzling Production. A Heady Celebration of Quintessentially English Talent."
The Guardian
---