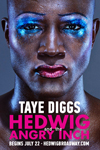 Hedwig and the Angry Inch
Belasco Theatre
Price from £ 105
Hedwig and the Angry Inch the Musical is a true rock musical about the transgender East German lead singer Hedwig and her fictional rock band.

Highlights:
- Ensure your tickets to this fantastic musical
- Get the best available seats within your chosen category
- Enjoy the winner of Best Musical Revival 2014

What is Hedwig and the Angry Inch about?
Hedwig and the Angry Inch is a rock musical about a fictional rock with the genderqueer East German lead singer named Hedwig in the front. Hedwig, formerly Hansel, assumes a female persona after a botched sex change operation which was performed to allow her to marry an American man and escape East Germany.

Brilliantly innovative and raucously entertaining, Hedwig has inspired a generation. The show was called "the Best Rock Musical Ever" by Rolling Stone and "the most exciting rock score written for the theatre since, oh, ever," by Time Magazine.

How do I get my tickets?
Shortly after your booking is complete, you will receive an e-ticket by email. Just print out your ticket and bring it with you to the theater.

Who is the musical suitable for?
Hedwig and the Angry Inch is recommended from age 13 and up as in contains strong language and adult themes. Children under age 4 are not permitted in the theater.

How long is the musical?
Hedwig and the Angry Inch lasts approx. 1 hours and 35 minutes, with no intermission.

Important information:
- When booking tickets for a musical in New York you will always be granted best seats available at the time of your booking. We don't have any influence on the exact seat and row number, as it is solely the theater that can appoint the seats. Within 36 hours after you have received your first booking confirmation, you'll receive an additional confirmation with your exact seats. These cannot be changed or altered as they were the best available seats at the time of your booking.