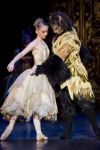 Birmingham Royal Ballet: Beauty and the Beast
Sadler's Wells
Price from £ 32
One of the UK's best loved companies, Birmingham Royal Ballet returns with a family favourite from David Bintley - 'Beauty and the Beast'.

A cruel Prince, cursed to spend his life living in hiding, finds salvation in the heart of a beautiful girl. The girl, a hideous beast, a golden ballroom full of animals, two haughty sisters and a grumpy grandmother dance through the unfolding pages of Philip Prowse's stunning storybook set.

The rich choreography brings to life magical transformations, wild waltzes, and a relationship that is at first terrifying, but ends beautifully.