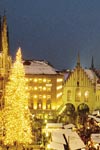 Munich Christmas Markets tour
Price from £ 9
Munich was surely made for Christmas. Come and see why. Book your tickets for the yearly Munich Christmas Markets walking tour here.

Welcome to the home of Christmas
Many of the world's most beloved seasonal traditions originate in Germany, such as the Christmas tree and the Advent calendar. For Germans, however, nothing compares to the unique atmosphere of an authentic old Christkindlmarkt in a traditional setting. Munich has been hosting Christmas markets for 600 years, and every year the medieval centre of town is transformed into a winter wonderland cluttered with charming stalls selling every variety of classic decoration and gift in an atmosphere happy with the scent of roasted nuts and hot spiced wine.

Step inside a Christmas card. We'll take you on a festive 2 hours stroll through the colourful markets clustered around the historic Old Town.

Highlights:
- The central market on Marienplatz
- The "Christmas village" in the palace courtyard of the royal Residenz
- The "crib market"
- The popular "Medieval Market" near Odeonsplatz
- Included in the price is public transport tickets and Lebkuchen gingerbread cakes.

We'll make regular stops at the various stalls, and your guide will tell you about the history of the markets, the meaning of the displays, and the Advent and Christmas rituals associated with them. You'll also get to sample the traditional seasonal delicacy, Lebkuchen gingerbread cake.

The tour is available in English and German.

How do I get my tickets?
Shortly after your booking is complete your e-ticket send directly to your email, just print it out and bring it on your tour.

Your tickets are only valid on the day you book.

How long does the tour last?
Munich Christmas Market tour lasts 2 hours.

Are there children's tickets?
Yes, children's tickets are available for children between age 6-13. Children under 6 are free, when accompanied by a paying adult.