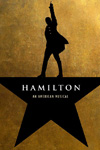 Hamilton
Richard Rodgers Theatre
Price from £ 171
Hamilton is a new musical about the scrappy young immigrant who forever changed America - no other than Alexander Hamilton.

Tony, Grammy, and Emmy Award winner Lin-Manuel Miranda wields his pen and takes the stage as the unlikely founding father determined to make his mark on a new nation as hungry and ambitious as he is.

From bastard orphan to George Washington's right hand man, rebel to war hero, loving husband caught in the country's first sex scandal to Treasury head who made an untrusting world believe in the American economy, Hamilton is an exploration of a political mastermind.