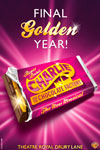 Charlie and the Chocolate Factory
Theatre Royal Drury Lane
Price from £ 54
Roald Dahl's deliciously dark tale of young Charlie Bucket and the mysterious confectioner Willy Wonka comes to life in a brand new West End musical. It's a fun musical for the whole family!

Highlights:
- Ensure your tickets to this fantastic musical
- Choose your own seats
- Enjoy a musical for the whole family

What is Charlie and the Chocolate Factory about?
When Charlie wins a golden ticket to the weird and wonderful Wonka Chocolate Factory, it's the chance of a lifetime to feast on the sweets he's always dreamed of. But beyond the gates astonishment awaits, as down the sugary corridors and amongst the incredible edible delights, the five lucky winners discover not everything is as sweet as it seems.

A chocolate garden, an army of squirrels and the curiously peculiar Oompa-Loompas must be believed to be seen in this spectacular new musical that is choc-full of fantastical treats to dazzle your senses.

The story of Charlie and the Chocolate Factory has enchanted the world for over 50 years, and was filmatized in 2005 with Johnny Depp in the role af Willy Wonka.

How do I get my tickets?
Shortly after your booking is complete, you will receive an e-ticket by email. Just print out your ticket and bring it with you to the theater.

Who is the musical suitable for?
Charlie and the Chocolate Factory is a musical for the whole family, and recommended for children age 6 and up. Children under age 4 will not be admitted.

How long is the musical?
Charlie and the Chocolate Factory lasts approx. 2 hours and 30 minutes, including intermission.

Who's the team behind?
Charlie and The Chocolate Factory is based on Roald Dahls's deliciously dark novel and the musical is directed by Academy Award winner Sam Mendes.