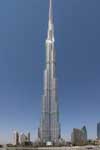 Burj Khalifa - Skip the line
Price from £ 32
Skip the line to Dubai's most iconic building - the Burj Khalifa! The Burj Khalifa is the tallest building in the world and it has the world's highest observation deck. From here you can enjoy unparalleled views of Dubai. It's certainly a must when visiting Dubai!

Highlights:
- Skip the line to Burj Khalifa observation deck
- Enjoy the amazing views over Dubai
- Visit day or night
- Choose between At The Top & At The Top SKY
- E-ticket sent directly to your inbox*

*Your e-ticket will be sent to you in a separate e-mail about 3-5 days prior to the date of your visit.

Experience the Best View in Dubai
You can choose between tickets to At The Top on level 124 or At The Top Sky Experience on the 125 & Level 148. The e-ticket will be sent to your e-mail, just print it out and bring it to Dubai Mall and Burj Khalifa.

At The Top - Level 124
Located on level 124 of the tallest building in the world, Burj Khalifa's observation deck 'At the Top' is an open air deck that offers incredible views of the city, ocean, and desert from an incomparable vantage point.
At The Top SKY - Level 148
Take the special elevator to 555 meters, where you can access the world's highest outdoor observation deck and enjoy the breathtaking views as you hang out in the luxury of our lounges.

As you descend gently to ground level, a new exhibit allows you to relive the historic construction of the Burj Khalifa.

At The Top SKY - Level 125
At 456 meters above the ground, and one level above the At the Top observatory, Level 125 offers you a spacious deck to enjoy the stunning 360-degree view of the city. This level also houses one of our newest attractions, Dubai – A Falcon's Eye View that allows you to explore the city from a unique perspective.

How do I get my tickets?
Since the tickets are personal and need to be issued with a name, booking number and time, you'll receive your e-tickets 3-5 days before the date of your visit. Just print out your ticket and bring it with you to the Burj Khalifa.

What time can I visit Burj Khalifa?
When you book your tickets you can choose a time slot (e.g. between 8:30 and 10:30) in which you wish to visit Burj Khalifa. When you receive your e-ticket you'll get your specific entrance time, which of course is within the time slot you have ordered.

Are there children's tickets?
Yes, children's tickets are available for children between age 2-11. Children under age 2 are free when accompanied by a paying adult.